It was ONE year ago that I sat with my dear friend on her Living Room couch, sharing a cup of tea while she explored
creating her own blog.
You know I shared that in one of my
Miscellany Monday posts
. Today I have the honor of sharing her first blog post, right here and am bursting like a silly, crazy proud mama because I know her heart, her struggles and her faithful friendship. She prays for my writing and this blog, friends. She has stood by me through adversity and is a faithful friend. When I think of her friendship, this is the verse that comes to my mind:
A friend loves at all times,
and a brother is born for a time of adversity.
Proverbs 17:17.
My sweet friend brought me a coffee and Rice Crispie Treat from Starbucks
and sat with me during my weekend Yard Sale. This is how I look when I roll out of bed and have a Yard Sale. But she looks fabulous, right?
Saturday, I celebrated my 49th year of living. Forty - Nine years of walking on this planet. I purposed to count my blessings and the way He loves me from Sunup to Sundown. But you know, somehow it didn't all happen the way I thought. Yet it was still Good. From morning to evening I counted it all joy, confessing along the way, when I started to grumble or complain...sorry- it really is my default. But He gives more grace and gives me faithful friends and family. I realize I am both needy and grateful because He does provide, not always the way I expect or even want, at times. But He knows me better than I know myself.
He loves me, gives me good things, and some things I reckon not so good BUT I can still thank Him, IN and through ALL.
I realized this weekend, that it is the presence of those I love I long for so much more than anything they give.
And realize that this is the will of God, to know His desire. His presence. He so longs for us to dwell in His presence. Aware. Not the gifts we bring, the sacrifices of toil. But our sitting, walking, moving all the day knowing He is with us. Yes, as close as our very breath. In all of the joy, pain, sorrow, struggle and blessing. He, sitting with us, in our husbands, sons, daughters, mothers,fathers, friends. It's miraculous but He is with us.
#471
. This post birthday present: seeing my BFF brave sharing her heart and words here in the blogosphere.
The rest of my multitudes will be shared in later post. Meanwhile would you click on over and send some encouragement Lauree's way. I know you will be blessed by her brave sharing.
Read her very first published post called "Waiting to be First" over at Tea Dreams and Sleepless Nights- I promise, you will be blessed!
Linking with Ann for Multitudes on Monday and Carissa for Miscellany Monday.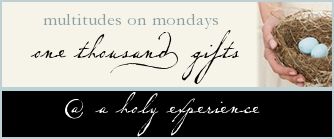 Linking Thursday for the Cozy Reading Book Hop w/Marissa and Imperfect Prose w/Emily: